We are Yorkshire's first, multi award-winning Trichologist led hair extensions salon.
A visit to The Hair alchemist is unlike any other trip to the hairdressers you will experience.
Everything about our salon works together for your enjoyment. We provide a relaxed, friendly atmosphere where you are welcome to ask questions, take your time looking through the hair menu, have a coffee or glass of wine and let us talk you through everything from how to care for your hair extensions to styling tips and advice.
We house a team of Hairdressers, Hair Extension Technicians, Weftmakers, Master wigmakers, Trichologists and Product experts.
Everything we do is designed around making each woman that walks through our door feel both welcome and reassured. We understand hair extensions better than any salon in the UK and are the only Trichologist led salon in Yorkshire.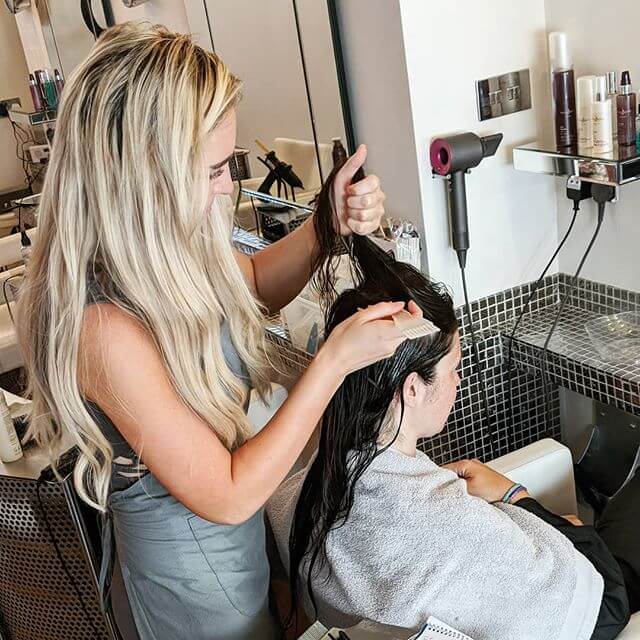 This is a Clinical hair specialist who works alongside the medical profession to diagnose and advise on hair related issues. Many ladies contact us with thin/fine hair or damage as a result of poorly applied hair extensions elsewhere.
The attachment methods we use for hair extensions are completely damage free and we work with a number of Trichologists in Hospitals in and around Yorkshire. Our Managing Director studies at the Institute of Trichologists in London and we are the only Trichologist led Russian hair extensions specialists in the UK.
At our salon, we understand that you might be nervous about having hair extensions and we know all too well the industry has a negative reputation. We are led by and committed to clinical hair safety and the health of our client's hair always comes first.
We only use completely safe, damage-free attachment methods and our Russian hair is the best available in the world; low in density and completely custom blended from raw ponytails (bulk hair) in our state of the art workshop. We are able to create your hair in front of you so you have complete control over the entire process from start to finish.
Our team of dedicated experts and Stylists have experience in advanced attachment methods making our hair extensions undetectable even in short, damaged hair.
If you would like to book your free consultation with one of our friendly team call 07538970628