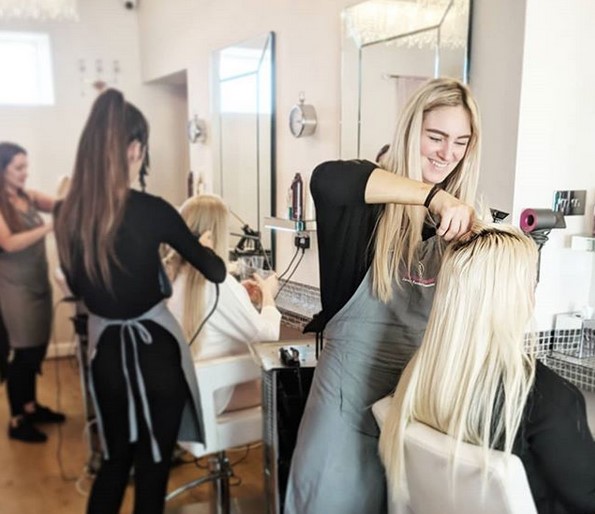 Choosing the best hair extensions near me in Yorkshire
… A note from the Director; re best hair extensions near me.
I have been an expert receiver of hair extensions for over 15 years now and I have tried, trained in and tested every attachment method for hair extensions you could think of.
At the beginning of my hair extensions journey, I was buying the cheapest hair from a hair extensions salon near me. It was close to home, cost under £150 and the hair looked fabulous… For about three days.
Soon the hair began to matt and tangle and I realised that perhaps travelling to a hair extensions salon near me was not the most cost-effective way to go, so I started to look further afield.
I visited hair extensions salons in Leeds, Wakefield, Manchester and even travelled as far as London until I eventually came across a salon that could offer me long lasting hair extensions as well as the level of client care I had been looking for.
This was my introduction to Russian hair extensions. That was 10 years ago and I have never looked back.
Fast forward over a decade later and our Harrogate hair extensions salon in the heart of Yorkshire boasts a large client base from all over the UK with ladies travelling regularly from Leeds, Manchester, York and Newcastle to experience not just our Russian hair but the level of service we offer.
During your initial, free consultation, we will show you the different hair grades we offer and colour blend them in front of you. Our staff will fit you with a couple to try so you can see how they feel and we will explain how to look after them before you decide.
You can even go home and think about it or look at a few other hair extensions salons in Yorkshire to compare!
I look back at the thousands (and I mean thousands) of pounds I wasted replacing cheap hair extensions, trying to find a hair extensions salon near me that would be able to create the natural looking hair I wanted without damaging my hair and I could cry.
At our Harrogate hair extensions salon, we work with only the finest Russian hair extensions available and many of our clients have already worn their hair for three years now. We also offer a high level of hair extensions aftercare and a friendly service. There is nothing worse than sitting in a salon feeling intimidated because you could cut the atmosphere with a knife.
So if you are looking for hair extensions in Leeds, Hair extensions in York or Hair extensions in Harrogate then it is definitely worth travelling a little further afield to find the best hair and a decent level of service. Believe me, it will save you so much time and money in the long run.
---
If you require any of our professional hair extensions services…
Please contact our dedicated customer services team on 07538 970628.