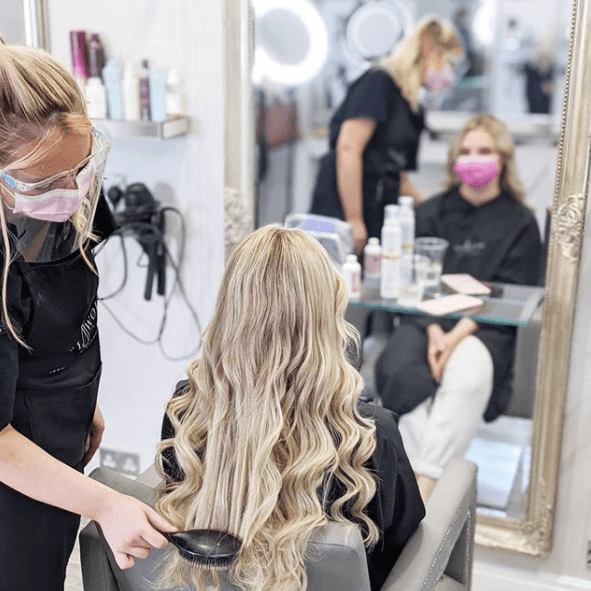 Hair extensions can be a great way to change up your look. Maybe you're dreaming of super-long locks but just can't wait that long for your hair to grow, or you want super thick and voluminous hair but can't achieve it naturally. Hair extensions are the answer but, what should you know before getting hair extensions (especially if it's your first time)?
Hair Extensions are an Investment
If you want your hair extensions to look good then you have to come to terms with the fact that they are probably going to be expensive. The best quality hair extensions don't come cheap. The benefit of paying a premium for your hair extensions however is longevity. 
Russian hair is some of the finest quality hair used for hair extensions in the world; it is also quite expensive. The upside is that rather than lasting weeks or months as cheaper hair extensions do, Russian hair extensions can last for up to 5 years with proper hair extension maintenance. This makes them an investment rather than an expense. Find out more about Russian hair extensions. 
In addition to this, the higher the quality of the hair used to create your extensions, the better they are going to look. Lower quality hair extensions have often been chemically treated before use in order to add gloss or change the colour. With high-quality hair extensions, this is not necessary as the hair is naturally glossy and comes in a wide range of colours. Because the hair does not need to be altered, damage to the hair is reduced, increasing the length of time hair extensions can be worn for.
There are Different Types of Hair Extensions
There are a wide range of options available when it comes to hair extensions. Discussing each type with your hairdresser and finding the right option for you before getting hair extensions is essential. Different types of hair extensions have different benefits and downfalls; the best hair extension option for you will depend on numerous factors including your lifestyle, your natural hair and how you want your new hair to look.
From tape in extensions to clip ins and micro ring extensions, there are numerous options so do your research! Clip ins are great for beginners or those who change up their look a lot as they can be taken in and out as you please. For a long-term solution, we recommend micro ring hair extensions. This is because they are completely damage-free, the bonds are discreet and give the most natural look in our opinion. Find out more about micro ring hair extensions.
Be Prepared for Your Consultation Appointment
Before getting hair extensions, you will likely be asked to come in for a consultation appointment by your chosen salon. During this appointment, you will be able to discuss all of your different hair extension options, your desired end result and the best way of achieving it. Coming prepared to this appointment is key to leaving the salon feeling happy once your hair extensions have been fitted. 
Your hairdresser should be a fountain of knowledge on the subject after all…so use them!
During our free consultation appointments we discuss with our clients how they want their hair extensions to look, the condition of their natural hair, their current hair care routine, their lifestyle and more. We also fit a few hair extensions during the appointment so the client can get a feel for them and decide which type of hair extension they feel will be best suited to them. 
Find out more about our process or book a free consultation appointment with us.
Hair Extensions Should Look Natural
When we speak to people who are thinking of getting hair extensions, one of the concerns often raised is how natural their hair will look. Hair extensions should look natural…and good quality ones will! 
The clue is in the name, hair extensions should be an extension of your natural hair. If applied and colour matched correctly, the bonds should be virtually undetectable in your natural hair. Clever positioning also ensures that hair is boosted in volume and remains looking thick and healthy all the way down the length. The colour matching process is essential to natural-looking hair. Hair is very rarely one block colour therefore, strands from different hair sources should be mixed to create your bespoke colour match. Matching the texture of the hair is also key to ensuring a seamless blend.
Looking After Your Hair Extensions is Key
If you want your hair extensions to continue looking amazing long after leaving the salon, they will require a little more time and effort than your normal hair care routine. First of all, hair extension hair is more porous than natural hair and will therefore absorb more water when washing. This means it takes slightly longer to dry than usual. In addition to this, because the hair is not attached to the root, it can dry out more easily. To counteract this you will need to condition the ends of your hair frequently to keep it feeling soft. 
You will also need to be careful not to apply products such as shampoo or conditioner to the hair extension bonds as this can cause them to slip. You may also need to buy special hair care products to look after your extensions.
Find out how to care for your hair extensions at home.
Hair Extensions Should not Cause Damage
One of the biggest myths about getting hair extensions is that they will ruin your hair. If the hair extensions are applied correctly using safe attachment methods then hair extensions should not cause any damage to your natural hair. That is not to say that hair extensions can't damage your hair; cheap hair extensions applied incorrectly can cause hair loss, breakages and damage to the strands. 
In order to ensure your natural hair is not damaged make sure you visit a reputable salon to get your hair extensions fitted. Micro ring attachments are the safest as they do not require any chemicals to be placed on your hair. The hair and the extension are slipped through a metal ring which is clamped shut, securing it to your head.  
Hair Extensions Should be Comfortable
We have all heard the phrase 'beauty is pain'… when it comes to hair extensions this is not the case. You should know this before getting hair extensions so you know what to look out for during your hair extension fitting. If the extensions seem to be pulling on your scalp, they have probably been applied too tightly. You may feel some slight discomfort the first few days after having your hair extensions fitted however this is likely due to the added weight of your new hair. If the discomfort does not subside after a few days, speak to your hairdresser.  
It is also important that more hair extensions are not added to your hair than it can sustain. For example, those with thin hair will not be able to support as many hair extensions as those with naturally thick hair. These are all things that should be discussed with you during your appointments. 
If you have more questions about getting hair extensions for the first time, check out our FAQ or get in touch with us on 07538 970628.