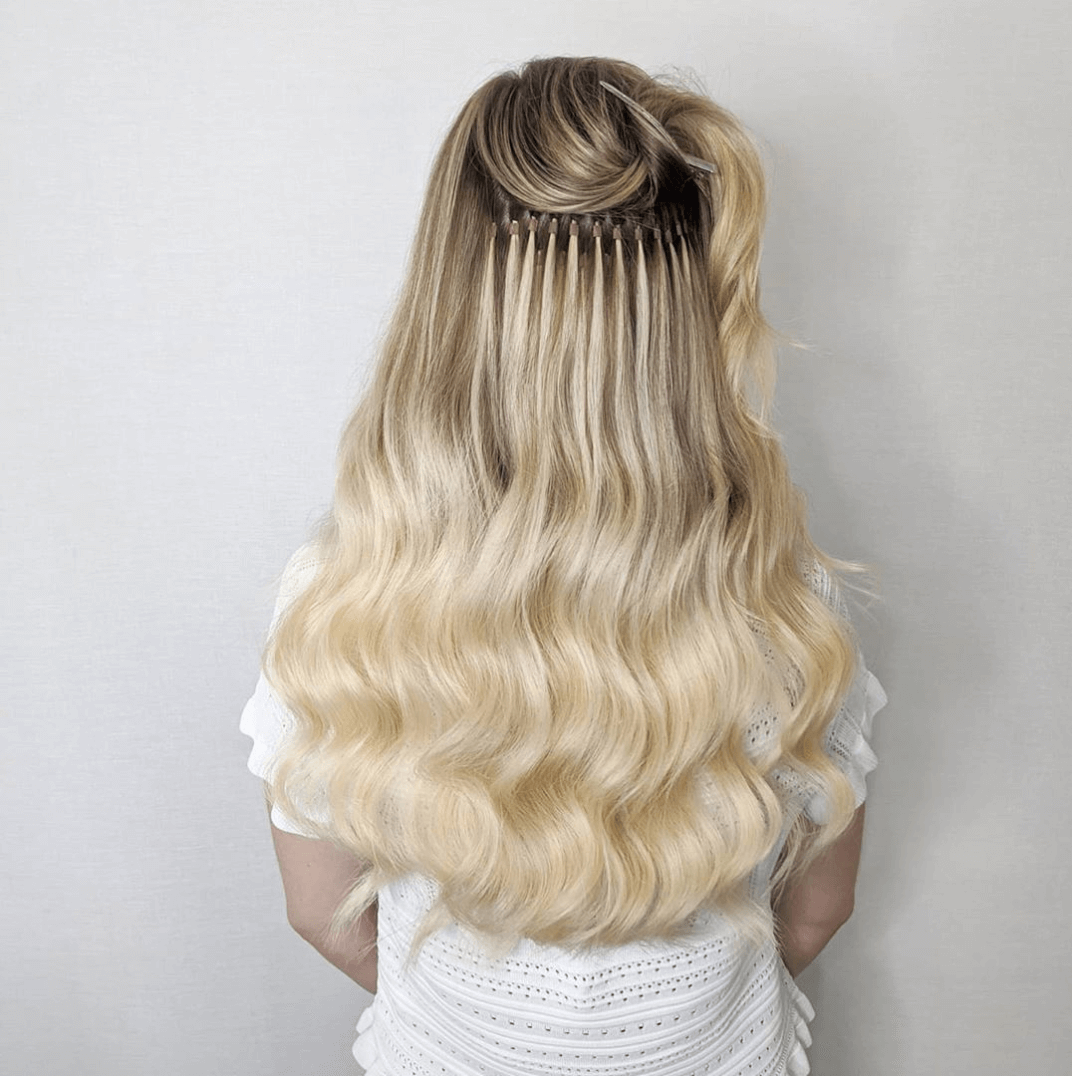 The View from the Salon Chair
First Impressions
Getting hair extensions for the first time, I was a little nervous. What would they look like? Will hair extensions damage my natural hair? Will they hurt? These were just a few of the questions I had walking into The Hair Alchemist salon…I really shouldn't have been worried!
I was greeted at the door and immediately taken to the salon chair; the staff were all super friendly and welcoming. After being seated I was offered a drink from the in-salon gin bar (soft drinks also available) and of course, I said yes…after all what's an afternoon in the salon without a little pampering?

The salon is super chic; think flowers, chandeliers and probably the comfiest salon chair I have sat in – always a bonus when you're going to be there a while! Already I was convinced of The Hair Alchemist's claims of providing a luxury service.

The Consultation
Normally your free consultation appointment would happen at a separate appointment prior to your hair extension fitting, however not being from Harrogate, my appointments were combined. 
I was asked a number of questions including what look I wanted to achieve, how thick I wanted my hair to be and how I usually wear my hair. After discussing this in detail, I was fitted with a hair extension so that I could see and feel one in my hair and was allowed to touch the hair. The Hair Alchemist salon create luxury Russian hair extensions as they believe that Russian hair is the best hair available anywhere in the world. The traditional Russian diet is high in vitamins and low in salt, making the hair super glossy, lightweight and strong.
After this, I was told how many extensions I would likely need in order to achieve my desired look and quoted a price.  Choosing to go ahead, the hair extensions then needed to be colour matched and created. 
The Colour Matching
This was easily the most impressive part of my hair extension salon experience with The Hair Alchemist. My hair was expertly colour matched by eye to create a seamless blend between the extensions and my natural hair. As a natural mousy brown, with copper undertones and a tonne of blonde highlights, I thought my hair might prove difficult to match. In order to match the extensions, the technician pulled strands from a number of different hair bundles, in different amounts and tested the colour against my natural hair until the perfect match was achieved. 
Creating the Hair Extensions
Once the colour match was on point, the extensions needed to be made. Usually, this will be done before your hair extension fitting appointment so everything is ready to go but as my appointments were combined, I was able to see my hair extensions made in front of me.
The Hair Extension Fitting
Now my hair extensions were ready to go, all that was left to do was have them fitted. With naturally curly hair, my hair was first straightened to make the fitting process easier. The hair was then sectioned so that the first row of extensions could be applied, and so on until the full head of hair extensions had been fitted. Throughout the fitting, I was frequently asked to run my fingers through my hair and to shake my head, all to ensure that the hair extensions were pain-free and felt comfortable on my scalp. 
In order to fit the hair extensions, The Hair Alchemist use micro ring attachments.  They are completely damage-free and help to ensure that the natural hair is protected. The hair extension and a section of your natural hair are slotted through the micro ring (this will also be colour matched to your hair so that the attachments cannot be seen), this is then clamped shut to secure the extensions. The attachments were also frequently checked throughout the appointment, making sure the hair extensions were properly fitted and less likely to experience slippage.
Read the Ultimate Guide to Micro Ring Hair Extensions.
The Hair Alchemist also offer miniature micro ring hair extensions, unique to the salon. These are great for thin hair and are the least damaging extensions for thin hair available anywhere. 
Styling the Hair Extensions
After all of the extensions had been fitted, they just needed to be styled. I was over the moon as it was going from shoulder length to waist length hair in a matter of hours. 
First of all, the extensions were trimmed to my desired length, then styled into soft waves. Throughout the styling process, a number of Neal and Wolf products were used. These are without a doubt the best products for hair extensions available. The products used on my hair included the Enhance Volume Mousse and the Guard Heat Protection Spray. Every product that was used on my hair was explained to me in detail before use, describing its purpose and how it should be applied. 
Maintaining the Hair Extensions
Now that my hair had been styled into what can only be described as 'princess waves' I was talked through the hair extension aftercare process to make sure I knew exactly how to look after my new hair before leaving the salon. I was told to use a sulfate-free shampoo and conditioner (preferably the Neal and Wolf ones as they are sulfate, paraben, TEA and cruelty-free; ideal for looking after hair extensions). A number of other products were also recommended to me including the heat protection spray and volumising mousse used on my hair during the appointment. The Hair Alchemist sell only the products they use themselves at the salon.

I was also told how to wash my hair properly to avoid tangles and slippages, how to brush my hair to avoid pulling on the extensions, how to avoid tangles while sleeping and the best way to look after hair extensions at the gym, on holiday etc.
After this, I was invited back to the salon in 4 weeks time for a free maintenance appointment, in which the hair extensions will be removed, re-sealed and refitted. Hair extension maintenance appointments should be then be scheduled on a 2 monthly basis.
Living with Hair Extensions
So… leaving the salon with my new waist-length hair, Neal and Wolf shampoo and conditioner in hand, I was a little unsure how I was going to get on with my new hair. I am a low maintenance girl by all accounts; do hair extensions fit in with that? I wasn't sure.

I have to say, I was pleasantly surprised. The attachments aren't noticeable in my hair and the quality of the colour match has been commented on by many of my friends and family…they can't believe how seamless and natural the hair extensions actually look. They are easy to maintain, looked after in a very similar fashion to my natural hair – after all, it is real hair!

So drying my hair takes a little longer in the morning, what's 10 extra minutes drying for a good hair day every day? A small sacrifice to make.