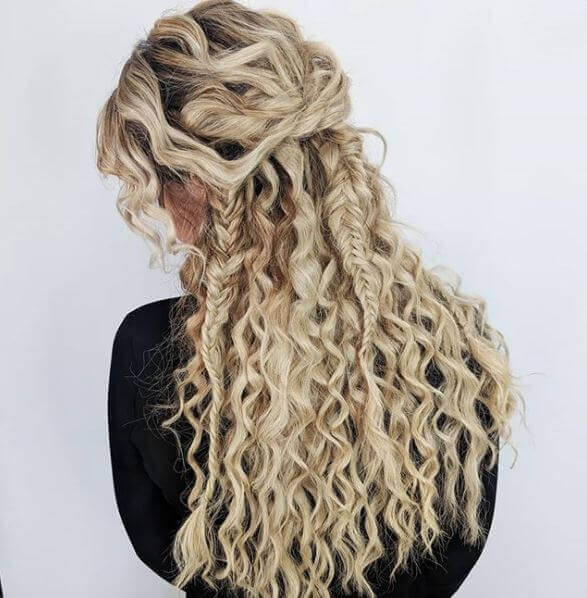 The Best Hair Extensions in Yorkshire!
2019 has bought with it a flurry of gorgeous reimagined hair trends, from braids to waves there is bound to be a style you fall in love with! Let us help you achieve these looks with the best hair extensions right here in Harrogate!
If you're concerned you don't have the hair to make these styles your own? Well, look no further! With our beautiful Slavic and Virgin Russian hair extensions, we can make anything work! Check out 5 of the top hair trends this year with our beautiful extensions!
Rose Gold
Rose gold is here to stay! Having stormed the hair scene back in 2017, the wave has settled with no sign of retreating, and rightly so! You can have so much fun experimenting with this colour! Whether you're looking for a silver pink hue or vibrant blush tones you'll be on trend.
Check out Glamour's Samantha Mcmeekin's post for tips and inspiration!
And now for the magic! Add some volume with our beautiful Slavic and Russian hair extensions and we'll add any type of rose gold your heart desires!

Statement Braids
Braids/Plaits never really go out of fashion, check out Victoria Secret model, Jasmine Tookes, at this years Oscars pulling off a beautiful long braided ponytail.
There is so much braiding opportunity with long hair! It's a great way to fix a 'bad hair day' and no matter where you're going, there is a braid for the occasion!
Our extensions give you more hair to braid, making the final look thicker and fuller!

The Pony
The ponytail isn't going anywhere! A full, voluminous pony shouts power. Don't believe us? Look at the gorgeous Angela Bassett at the Oscars, fierce and fearless.
Hair extensions, however, don't have to overpower! It's just as easy to get a natural look.

Soft Waves
Soft waves are perfect for all hair lengths, you can add as much or as little volume into those heavenly locks. With soft and shiny textures, the look only gets stronger over time. A timeless classic.
Check out Miley Cyrus rocking these natural soft curls at the Oscars!
We'll have you leaving the salon with the silkiest, smoothest waves no matter what length or colour you choose.


Every Kind of Blond
Whatever blond you're into it's represented!
For those that are seriously committed, icy blond requires serious upkeep but it's stunning and worth it! Our extensions will only enhance this bold look giving you the opportunity to style it to your heart's desire!  
Don't have the time? Or want the maintenance? Don't fear, 'dirty blond is back.' Have roots showing? It's a style choice, own it. This blond needs less upkeep and evolves as your hair grows and colour changes.
The Oscars showed us a spectrum of blonds from Lady Gaga's platinum blond up-do to Brie Larson's blond beachy bob. Whether you're wanting a natural blond or a vibrant change, blond will not go out of fashion!
Here is just a small selection of the types of blonds we've worked with!
So, whichever trend you are following this spring, we can make it happen. Don't forget to follow us on Instagram for our latest looks!
There are no limits with The Hair Alchemist.