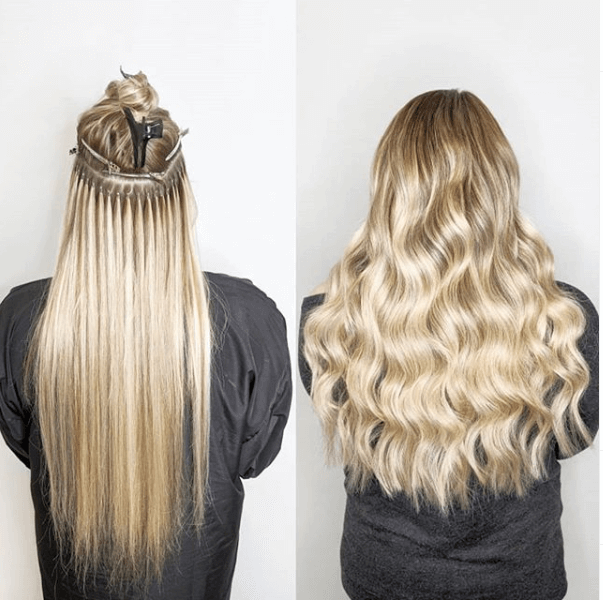 What are Micro Ring Hair Extensions?
Micro ring hair extensions are one of the most popular methods of attachment for hair extensions. Micro rings are small metal rings that hair extensions are threaded through, along with some of your own hair. Once they have been positioned correctly the micro rings are clamped into place, securing the hair extensions to your hair. Our micro rings are lined with a fine silicone layer in order to ensure slippage is minimised. 
Due to their small size, micro rings are virtually undetectable when placed in the hair; they are also completely damage-free and can be removed or repositioned with ease. At The Hair Alchemist, we only use the very best in Russian and Slavic hair. Our Russian micro ring hair extensions are of the highest quality; we source our Russian hair ethically, ensuring it is damage-free before use.
Whilst micro ring extensions are discrete, there is an even more discrete option; miniature micro rings. Mini micro ring hair extensions are attached via the same premise however, the metal ring itself is smaller in size. The main benefit of miniature micro rings is that it allows hair extensions to be applied to extremely fine hair, without detection. Miniature micro rings are exclusive to The Hair Alchemist salon, custom-made to ensure seamless application.
How Long do Micro Ring Hair Extensions Last?
Micro ring hair extensions are one of the longest-lasting methods of hair extension attachment, with proper maintenance. Our Russian micro ring hair extensions can last anywhere between 1 and 5 years depending on your lifestyle and how you care for your extensions.
Micro ring hair extension maintenance is one of the main factors that contributes to the longevity of your hair extensions. We advise that clients attend a free check-up after a month and book in for 2 monthly maintenance appointments thereafter. Extensions should not be worn for longer than 2 months at a time without refitting as your natural hair will have grown by over an inch meaning that roots will begin to tangle and could damage your hair extensions.
During your maintenance appointments, your micro ring hair extensions will be carefully removed by one of our stylists. The hair extensions itself will then be resealed with a keratin bonding material which helps to reduce shedding and removes shampoo build-up. Your own hair will also be washed, blow-dried, trimmed and re-sectioned so that we are able to check the health of both your hair and scalp, whilst also giving you time to sit back and relax. After this, your hair extensions will then be refitted with micro ring attachments helping to prevent slippage and damage to hair extensions thus, improving their longevity.
There are also a number of things that you can do at home to help improve the life of your micro ring hair extensions. Once your extensions have been fitted, you should refrain from washing your hair for 2-3 days; this allows the tips of the extensions to harden, helping to improve the strength of the bonds. 
When styling your new hair, you should treat it with the same respect as you would your own. Remember that your hair extensions are literally an extension of your own hair. Pulling too hard or not supporting the bonds when brushing can cause damage to both your own hair and the extensions themselves.  You should also try to avoid frequent use of heat and always protect your hair with a heat protection spray before straightening, curling or blow-drying. We also advise that a conditioning spray is used before blow drying, however, this should never be applied directly to the micro ring attachments as this can cause your hair extensions to slip. Hair should also be detangled before drying with a wide-tooth comb; ensure you support the bonds whilst doing this.
When washing your hair, we recommend using Neal and Wolf products only. Neal and Wolf products are sulfate, paraben, TEA, DEA and cruelty-free, helping to ensure your hair remains healthy and looking great! You should wash your hair extensions 2-3 times per week. Once again, you should be careful not to apply product, particularly conditioner, to the micro ring attachments in order to avoid slippage. Rinse thoroughly to prevent product build-up.
For more details on how to best look after your micro ring hair extensions, visit the aftercare and maintenance sections of our website.
Which are the Best Micro Ring Hair Extensions?
There are a couple of variations of micro ring hair extensions offered by salons. Whilst we offer only micro ring and miniature micro ring hair extensions, some salons offer what are known as micro loop hair extensions. Micro loop hair extensions use a plastic loop in order to attach extensions to a client's natural hair. The client's hair is pulled through a pre-attached copper ring and clamped shut. Whilst this method is often quicker than the application of micro ring extensions, they do not last as long as it is very difficult to carry out maintenance on micro loop extensions. This is because each ring is already fused to the hair and therefore new rings cannot be applied; extensions can only be pushed back up the hair in order to reduce slippage however this is not recommended. Micro loops are also not as discreet as micro rings therefore, can often be seen if natural hair is thin.
Micro ring hair extensions, on the other hand, although more time consuming to fit, boast a wide range of advantages over micro loop extensions. The ring is inserted into the client's hair, strands of hair extension are also inserted into the ring before if it is clamped shut. As hair is separate from the ring itself, it can be clamped flatter thus making it less likely to slip and more discreet. Micro ring extensions also allow for regular maintenance to be carried out. Hair extensions can be fully removed and refitted to ensure slippage does not occur and hair stays looking great for longer. Our particular style of micro ring is unique to us as it contains a fine layer of silicone in order to further prevent slippage.
We also offer miniature micro ring hair extensions. These are the same as micro rings but you guessed it…smaller. These are the ideal choice if you have particularly fine hair as they are less likely to be seen due to their size.
Do Micro Ring Hair Extensions Damage Your Hair?
Micro ring hair extensions are completely damage-free when fitted properly by a reputable hair extension technician. The reason that micro ring hair extensions cause no damage to the hair is because they do not use glue or any other harsh chemicals in order to form bonds between the extension and the natural hair. Hair is simply slotted into the micro ring along with the extension and clamped shut. 
Whilst it has been said that the added weight of the hair and the micro ring itself could cause damage to the hair, this is not the case. Hair is surprisingly strong and will not break for some time if a gradual force is applied. Most people's hair could withstand the weight of large amounts of micro ring extensions before any breakage would occur.
In addition to this, the nature of micro ring hair extensions means that they can be easily removed. They are removed by unclamping the metal ring so that the hair can be freed from the bond. Hair extensions bonded by glue cannot be removed so easily. Harsh chemicals are often used in order to breakdown the glue, to free the hair, therefore causing damage to both your natural hair and to the extension itself.
What Can't I do with Micro Ring Hair Extensions?
We often get asked by clients what they can and can't do whilst wearing micro ring hair extensions. Although hair extensions should not affect your lifestyle too much, there are certain things you should avoid, or take precautions against, if you want to increase the longevity of your extensions. 
If you are prone to using sunbeds you should ensure that your hair is wrapped in a towel before use as sunbeds can melt the bonds and dry out hair. If you work out a lot, use saunas or steam rooms you should ensure that you dry your hair thoroughly afterwards as soon as possible. If bonds remain damp for a prolonged period of time, they can begin to deteriorate.
As prolonged exposure to moisture can cause bonds to deteriorate, we advise that you avoid swimming as much as possible. Both chlorine and salt can cause hair discolouration, damage to both bonds and hair, as well as matting. If you choose to go swimming, you should try to keep your head above water to avoid getting bonds wet as much as possible. You should braid your hair before swimming, rinse thoroughly with fresh water afterwards and detangle with a wide-tooth comb, whilst supporting the bonds. You should never brush your hair whilst it is wet. Once the hair has been detangled you should dry it using a hair extension protein spray.
How Much do Micro Ring Hair Extensions Cost?
How long is a piece of string? Micro ring hair extensions can cost anywhere from a couple of hundred pounds to a couple of grand. It all depends on the quality of the extensions and the expertise of the person fitting them. At The Hair Alchemist, we offer only the best in Russian and Slavic hair due to its unique benefits. Russian hair is renowned for its natural gloss and strength due to the nutrient-rich diet commonly eaten in Russia. 
If you want the best in luxury hair extensions Russian hair is the only way. You can expect to wear Russian hair for years rather than months, making it an investment of which you should expect to pay a little more. 
Visit our pricing page for our full price list.
Learn more about our micro ring hair extensions online or contact us to book a free consultation appointment!